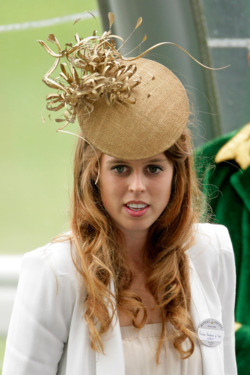 Princess Beatrice
Why did she have to ruin it for the rest of us?! When planning a day at the races at the Royal Ascot everything has to be stunning. The entire look from head to toe is planned. You never know who you'll run into down there.
A symphony of fashion wonderment is conjured in what can only be described as crude self-indulgence. Apart from your diamond studded clutch and jewelry to match, you have to adorn yourself with fabulous headgear. Everybody knows that!
Fascinators have been like cat nip to these royal-types for the past decade and finally someone has had enough. They're cracking the whip big time for these poor women of questionable taste, who only want to look their best.
The Royal Ascot horse races have forbidden hats less than 10cm at the base and that protrude over 30 cm from the top of the head. Strapless or sheer-strap tops and dresses will be banned without exception, along with compulsory suits and ties for the men.
"We want to see modern and stylish dress at Royal Ascot, just within the parameters of formal wear." - Charles Barnett, Chief Ex. @ R.A.
Dutchess Catherine Middleton
They are not pleased with the slip into decadence over the years and this is their way of rectifying it.
There might also be an underlying agenda here though. It might in fact be the recent increase of race horses keeling over from the accidental inhalation of these accessories that have sent the owners into a tailspin.
Just keep them away from the horses and everyone can have fun. Don't let the reasonable ones suffer with them.